Model year 1968
Featuring Diane Wheat (sister of Bozeman distributor Denny Wheat) and Loren Miller of W. Oates Miller & Associates, Trail-A-Sled's new tear-drop stylings are displayed in Bridger Canyon near Bozeman, Mont. Company marketing photo.
1968
Snowmobile Sales, Inc (distributor for the Wisconsin-area) of Marshfield, Wisconsin display their impressive array for Scorpion race winnings. Origin unknown.
Jan 1968
Serpent Lake Snowmobile Derby general manager and local insurance man Bruce Pirner (right) presents a first prize trophy to Larry Paron (left) of New Brighton who won the Class B (261-295cc) event. Sponsored by the Crosby Chamber of Commerce, this first-ever event was hosted by the White Pine Lodge on Serpent Lake's eastern shores adjacent to the city of Deerwood. The local event drew nearly 1,000 spectators and 44 participants. Crosby-Ironton Courier.
Aug 1968
Dick Harrison (left) Trail-A-Sled, Inc. Secretary-Treasurer shares a few laughs with Scorpion dealers Augie Paron of New Brighton (center) and Art Davis of Carlton (right) at a company-sponsored event held at the Ironton village hall. Over 100 distributors were present for the festivities. Crosby-Ironton Courier.
Nov 1969
In November, Argosy Magazine publishes the article "Banff or Bust." Written by Hal Steeger and photographed the previous July, the article presented a saucy photo-feature of the "fastest-growing winter sport in North America." Shot along a route from the awe-inspiring Athabasca Glacier to Banff, Alberta, the article featured Argosy staffers and bikini-clad models romping through a series of lighthearted contests. For the trek, Argosy editors culled fifty-two manufactures down to the leading eleven, including Trail-A-Sled, Inc. The specific image presented above was touted as "a photographic first for a national magazine" and featured Scorpion's Barrie Deakin in the chute. Courtesy Wayne & April Small - Argosy Magazine
1969
The Crosby Bar offers a popular line of private-labeled Scorpion Kentucky Straight Bourbon and Scorpion 86 Proof Blended Whiskey. Scorpion liquor is a now a valuable and extremely rare collector's item.
1969
Dick Harrison stops along a trail with his 1970 model. Private photo.
Nov 1969
The International and Distributor Scorpion Race Teams prepare to do battle at the 4th Annual Christmas City Indoor Snowmobile Race held at the Duluth Arena. Origin unknown.
1969
Founders stop to reflect along the assembly line (L to R), Stub Harrison, Glen Gutzman, unidentified, Dick Harrison. Origin unknown.
1969
Montana distributors Karen Smith and Ellen Wegley enjoy a ride near Bozeman, Mont. Company marketing photo. Courtesy: Mike Linnenkamp.
1969
Dick Harrison and Glen Gutzman pose with representatives of the Sachs engine company at Dick's Crosby-area home.
Model year 1969
Scorpions are presented near Bozeman, Mont. Featuring Montana distributor Keith Wheat (L), and Loren Miller (R) public relations specialist, W. Oates Miller & Associates. Company marketing/personal photo. Courtesy: Alfred Peterson, Sr.
Dec 1968
Company Christmas greeting.
Model year 1969
Towing Bozeman local Owen Arrington (owner of present-day Best Western City Center Motel in downtown Bozeman), the Trail-A-Sail team soars "Above All" in Montana's Big Sky country. Shot southeast of present-day Big Sky in the Porcupine Creek area. Company marketing photo.
Model year 1969
Trail-A-Sled sales representatives Louis Smilich (L) and Virgil Lueck (R) ham it up in trappers garb for a television spot. Company marketing photo. Courtesy: Les Pinz.
Jan 1969
Virg Lueck (right) factory representative for Trail-A-Sled, Inc. presents a new Scorpion Mark III - 400 (wide track) the firm donated to Ed Johnson of the Brainerd State Hospital. Brainerd Dispatch.
Jan 1969
Demonstrating an amazing comeback from a fire that nearly destroyed the firm more than a year ago, Trail-A-Sled, Inc. now operates three modern assembly lines in it's spanking new (and fireproof) assembly plant. Brainerd Dispatch
Apr 1969
Plant foremen Frank "Nunny" Vukelich (left) and Duane Putikka (right) proudly display the firm's latest model for 1970, the gorgeous red-flecked Stinger presented here just before the machine is crated. Brainerd Dispatch.
Apr 1969
Race team mechanic and driver Wayne Longbottom poses alongside the firm's new transport vehicle. Crosby-Ironton Courier
Aug 1969
Trail-A-Sled employees Ronald Chirstenson (left) and Roger Johnson at work in the Rubber Drives, Inc. facility where several rubber-product presses are operated. The press pictured here turns out 160 parts every 15 minutes. Rubber Drives also produces a patented molded rubber track for Scorpion as well as 15 varieties for other manufacturers. Brainerd Dispatch
Sep 1969
In a surprise move, Glen Gutzman (center) is presented the Governor's Certificate of Appreciation by Fred Ferguson of the Brainerd office of the State Employment Service for the firm's program of employing the physically handicapped. Also present were (from left): Jack Laimer, public relations director; Francis Scott, personnel manager; Gutzman and Ferguson and Earl Hamilton, general manager. The award was presented at the Crosby Chamber of Commerce's first annual meeting. Brainerd Dispatch
Nov 1969
Flyer for the Duluth Arena's infamous Indoor Snowmobile Race. It was at this specific event that Corzine's Kamikaze's made their heart-stopping debut. Origin unknown. Courtesy: Les Pinz
Dec 1969
In December, Argosy Magazine publishes a fascinating article highlighting the amazing adaptability of Scorpion snowmobiles. Titled 'Bighorn Sheep by Snowmobile,' the story featured California State Fish and Game Department experts along with Scorpion executives engaged in a time-critical mission to track and study the elusive desert bighorn sheep in the hostile Mojave Desert. Long before the availability of ATVs, Scorpions like the wide-track Mark III 400 featured here provided an otherwise impossible means of transportation within the barren sand slopes of "Devil's Playground" and "Old Dad Mountain." When supplemented by a Skat Trak wheel conversion kit, the Scorpion's patented rubber track proved amazingly effective in navigating the soft sands of the Mojave. A special air cleaner and extra-heavy lubricants were all that remained to complete the conversion from snow machine to desert dynamo. Bob Grant, the article's author claimed that, "Scorpions proved nearly as sure-footed as the mountain sheep we pursued." Scorpion snowmobiles supplied by Western Scorpion Snowmobile Corporation, Sparks, Nevada. Courtesy Wayne & April Small - Argosy Magazine.
1970
Now a valuable collectors item, Scorpion's exciting Championship Snowmobile Derby Game is offered through a wide network, including Scorpion dealers and retail outlets in the United States and Canada (a French version titled Championnat Derby de Moto-Neige was also offered). See Transcripts for a full description.
Model year 1970
All-Star pitcher Jerry Koosman enjoys a few moments on a Stinger with his son. Company marketing photo. Courtesy: Les Pinz
Model year 1970
The new Trail-A-Sled Stinger featuring sporty new 15" track, metal flecked hood, and custom modifications. Company marketing photo. Courtesy: Les Pinz
1970
Minnesota sports legends Dave Osborne (L) and Jim Perry (R) of the Minnesota Vikings and Minnesota Twins enjoy a night out on a new Scorpion Stinger and a Mark III 18" wide track model. Company marketing photo.
1970
The manufacturing facility is expanded by Fuqua to 150,000 square feet. Origin unknown., Courtesy: Les Pinz
Model year 1970
Scorpion's sporty new Mark II. Company marketing photo. Courtesy: Les Pinz
1969-70
The International Race Team emerges who, together with the Distributor Team, were soon to be immortalized as "Corzine's Kamikazes." Noted left to right. Bottom: Wayne Longbottom (Chief Mechanic), Larry Paron, Roger Ebert and Fred Jillson. Center: Len Corzine (Race Director), Race Team Support Vehicle. Top: Dale Bjerkness, Jim Sipper, Darrel Northburg and Ed Hamilton. The Distributor Team (not pictured) included: Frank Caswell, Terry Holm, Jerome Kritzman, Pete Ledoux, Dennis Pinz, Les Pinz, Don Swanson and Orrin Tutt. Origin unknown.
Mar 1970
The Montpellier Quebec 24-hour endurance race proved highly successful for Scorpion, further strengthening the firm's reputation for durability. Scorpion's Canadian racers took all honors with 710 one-mile laps in 19 hours. Newsprint - origin unknown.
Nov 1970
Together with Snowmobile Sales, Inc. of Marshfield Wisconsin, the Howie Sturtz Orchestra releases their now-famous Scorpion Snowmobile stereo album featuring the Scorpion Polka and the Snowmobile Waltz. Noteworthy stage and television performers, the Sturtz orchestra was also a fixture at numerous snowmobile events sponsored by Sidney and Marie Trulen of Snowmobile Sales, Inc.
Model year 1971
The bubble-nose survives its final year with the Mark I. Company marketing photo.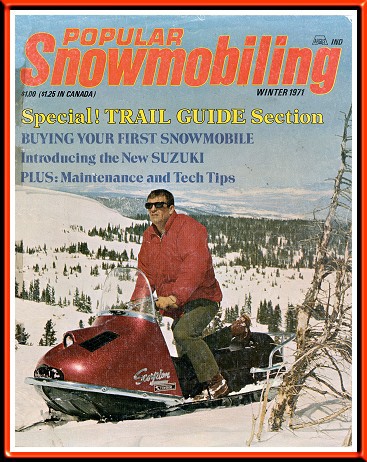 1970
A Scorpion Stinger is featured on the cover of Popular Snowmobiling's Winter 1971 edition.
1971
Scorpion's innovative Spyder, an early predecessor to today's ATVs. One of 25 prototypes manufactured. The founders final project before resigning. Company marketing photo. Courtesy: Les Pinz
Model year 1971
The radically-new wedge design is unveiled in the Stinger II. Company marketing photo.
1970
The Scorpion racing team for the 1970/71 season is announced, featuring the aggressive new Super Stinger with a "Rat Trap" clutch, engine options as large as the 650 cc Hirth "Red Baron" and numerous additional racing modifications. Seated: Len Corzine (Race Director). Standing left to right: Dale Bjerkness, Les Lockler, Darrel Northburg, Gerald Irvine, Levi Frink, Ed Hamilton, Ken Dekat. Company marketing photo.
Jul 4, 1971
The Shriner's Scorpion Stunt Team brandishes a dozen gleaming 1972 Super Stinger II's as they prepare for another display of their trademark interlaced maneuvers. The Scorpion-outfitted Shriners were a staple of Crosby-Ironton's Independence Day parade for many years. This photo was taken on Highway 210, near Serpent Lake's west-end. Courtesy: Les Locklear
Aug 1971
Guided by foreman Jim Sipper (left); Tom LeMay, production engineer (center); and Bill Davis (right) foreman, Scorpion's very first Stingerette model rolls off the assembly line. This new model features a lavender color scheme and was the industry's first attempt at target marketing to the female snowmobiler. Crosby-Ironton Courier
1972
The all new Super Stinger II. Company brochure.
1972
Scorpion's Top Three Challenge figured prominently in company promotions. Company marketing materials.
Oct 1972
Scorpion president Warren E. Daoust provides a walking tour of the firm's modern facilities to Paul Turner, Scorpion distributor for Ontario, Canada. In this photo, Warren proudly displays the very first 1973 400 TK Stinger featuring a hood color of all things ... yellow! Newsprint: origin unknown